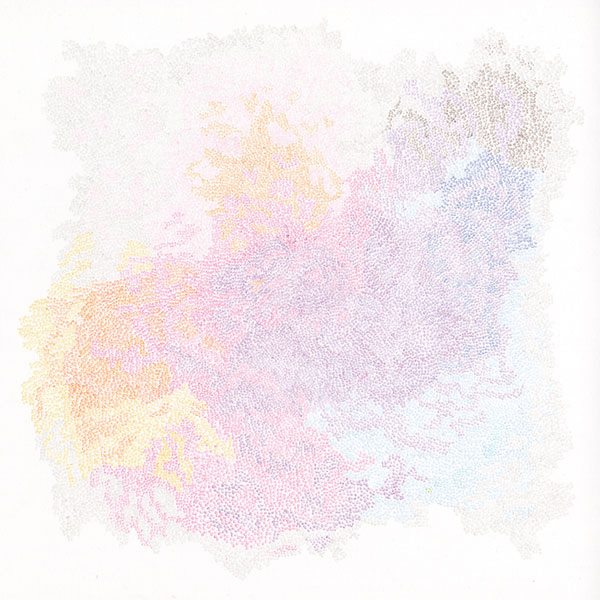 Justin Wright se tient un peu vouté sur la scène, puis il se tourne vers le bassiste et le batteur, son regard semble un peu ailleurs. Il tient dans ses mains une copie de Gibson SG (de la marque Ibanez.) Il joue un gros riff bien distordu, trois accords pour donner la rythmique, vite reprise par le bassiste et le batteur. Ensuite ça tourne en boucle jusqu'à plonger l'audience dans une sorte d'hypnose, en état de transe, la foule se meut doucement. De temps en temps la basse se permet une petite ligne mélodique, toujours différente à chaque fois, ça part du sol et ça vous fait vibrer la cage thoracique. Puis la guitare se lance dans immense jam psychédélique et improvisé, il y a tellement d'écho qu'on a l'impression que plusieurs phrases de guitare semblent s'empiler les unes sur les autres. A la fin, il ne reste plus que des échos saturés qui tournent en boucle par feedback. Pendant les deux dernières minutes de Closet Full Of Candles on retrouve les drones bourdonnants d'Expo '70.
( ♫ ) Expo '70 – Closet Full Of Candles
Audio clip: Adobe Flash Player (version 9 or above) is required to play this audio clip. Download the latest version here. You also need to have JavaScript enabled in your browser.
Tu fermes les yeux pour mieux écouter les nappes musique qui se jouent là. On y entend une sorte de Moog et des petites lignes de guitare. Et puis au bout de trois minutes, la batterie repart dans une rythmique répétitive. La guitare, une fois de plus, ressort quelques riffs lourds et psychédéliques, tandis que la basse repart dans les profondeurs des fondations. On croyait que tout ceci ressemblerait aux improvisations ambiantes que l'on pouvait entendre d'habitude avec Expo '70, mais là on se retrouve au beau milieu de kosmische music bâtie sur des rythmiques motorik. De loin les titres les plus électriques que l'on peut entendre sur ce split-lp avec Pulse Emitter, Date Palms, Faceplant et Expo '70.
( ♫ ) Expo '70 – Electrifying Energy At The Gates Of Life
Audio clip: Adobe Flash Player (version 9 or above) is required to play this audio clip. Download the latest version here. You also need to have JavaScript enabled in your browser.
Par Mathieu