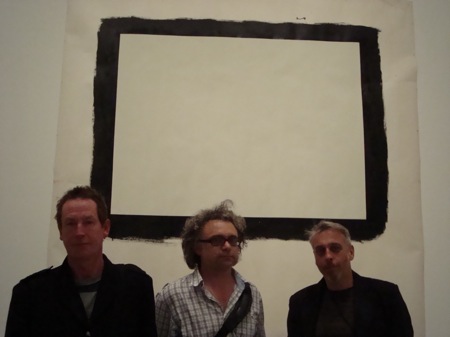 La vitesse tue, c'est bien connu, et pourtant je m'entiche encore à me presser toute la journée. Il faudra bien qu'à un moment donné je m'arrête un peu. Sur Speed Kill, on entend une guitare acoustique, puis une étrange distorsion jouée sur une deuxième guitare, puis tout  semble se désaccorder peu à peu.
On entend ensuite les voix des membres de The Dead C qui sont assez saisissantes.
Les percussions jouent une sorte de pulsation lo-fi qui nous préparent progressivement au final bruitiste.
Je crois que
je n'ai écouté pas
quelques choses
d'aussi
prenant
depuis
longtemps.
( ♫ ) The Dead C – Speed Kills
Audio clip: Adobe Flash Player (version 9 or above) is required to play this audio clip. Download the latest version here. You also need to have JavaScript enabled in your browser.
Quand j'ai envie de m'isoler j'aime bien écouter aussi Three Years. Et puis après j'aime bien me passer le premier album des Supreme Dicks, « The Unexamined Life ». Mes oreilles deviennent alors attentives à ces lignes de basse d'une rare noirceur, à ces  guitares saturées qui semblent faire du sur-place, à ces voix perdues au milieu de toute cette fuzz bruitiste.
Nous aussi on est un peu perdu par la même occasion, les sons-bruits vous agressent les oreilles.
On joue des petites phrases de guitare aux rythmiques atonales sur des reproductions de dialogues.
Ici, sur « DR503 »,
on sculpte
des
morceaux
entiers
à
coup
de
distorsions
et
de feedbacks.
( ♫ ) The Dead C – Three Years
Audio clip: Adobe Flash Player (version 9 or above) is required to play this audio clip. Download the latest version here. You also need to have JavaScript enabled in your browser.
On se sent perdu
entre deux craquements et trois cliquetis,
surtout quand
les
bourdonnements
se
font plus intenses.
Les distorsions bruitistes semblent s'empiler comme
pour mieux nous noyer sous un amoncellement de sons qui peuvent effrayer plus d'un.
Et pourtant il y a de la belle musique là dessous, enfin, pour qui prendra le temps d'écouter tout ça, en particulier les neufs minutes et neuf secondes de Polio qui sont toujours aussi saisissantes. Il y a quelques choses d'assez sensibles dans ses échos un peu free de guitares et de percussions.
Le rapport au temps n'est plus tout à fait le même.
Encore une histoire de vitesse.
( ♫ ) The Dead C – Polio
Audio clip: Adobe Flash Player (version 9 or above) is required to play this audio clip. Download the latest version here. You also need to have JavaScript enabled in your browser.
Par Mathieu