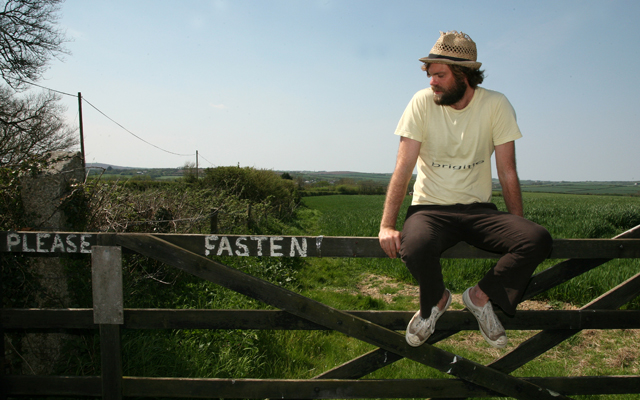 On entend presque la pluie couler, on entend aussi des cordes pincées sur une guitare folk, sûrement une Martin. Il y a des accords mineurs, mélancoliques, un peu tristes, mais qui font du bien à écouter. On y entend cette voix, presque chuchotée. Discrète, elle se pose doucement au milieu de ces phrases mélodiques. Entre deux couplets, quelques instruments viennent se rajouter, un piano, un violon, quelques chœurs. De l'art de savoir jouer des règles de la composition.
( ♫) Neil Halstead – Digging Shelters
Audio clip: Adobe Flash Player (version 9 or above) is required to play this audio clip. Download the latest version here. You also need to have JavaScript enabled in your browser.
J'écris ces quelques mots décousus après avoir pris du paracétamol. J'ai mal au crâne.  Une contrebasse, un banjo. Il y a dans ce disque des moments qui m'évoquent la fin de quelques illusions. Il y a ces instants où l'on aimerait bien revenir en arrière et corriger deux ou trois erreurs. Une note de piano. Et puis on se dit qu'on a finalement fait les bons choix, qu'on s'en est sorti, on pouvait faire mieux mais ce n'est pas si mal que ça au bout du compte. Un peu de finger picking sur la guitare acoustique. Les paysages défilent devant mes yeux. Je suis encore dans un train, à voyager de ville en ville.
( ♫) Neil Halstead – Loose Change
Audio clip: Adobe Flash Player (version 9 or above) is required to play this audio clip. Download the latest version here. You also need to have JavaScript enabled in your browser.
Il faudrait un jour revenir sur la carrière discrète de Neil Halstead. De Slowdive, je me souviens surtout de « Just For A Day », de ces lenteurs, de ces basses et de ces guitares tristes et atmosphériques, de ces compositions que l'on écoute fatigué, le soir de préférence. Parfois on plaisante en passant ce disque en 45t pour obtenir le son de The Pain Of Being Pure At Heart. Je me souviens un peu de Mojave 3, surtout de Love Songs On the Radio et puis de « Puzzle Like You », acheté en 2006, que je trouve un peu trop chargé. Et puis en ce moment j'aime bien écouter son premier disque en solo, « Palindrome Hunches », c'est très acoustique, très anglais aussi, mais on y retrouve le rythme lent de ces anciennes compositions et je trouve cela très beau.
( ♫) Neil Halstead – Full Moon Rising
Audio clip: Adobe Flash Player (version 9 or above) is required to play this audio clip. Download the latest version here. You also need to have JavaScript enabled in your browser.
Par Mathieu