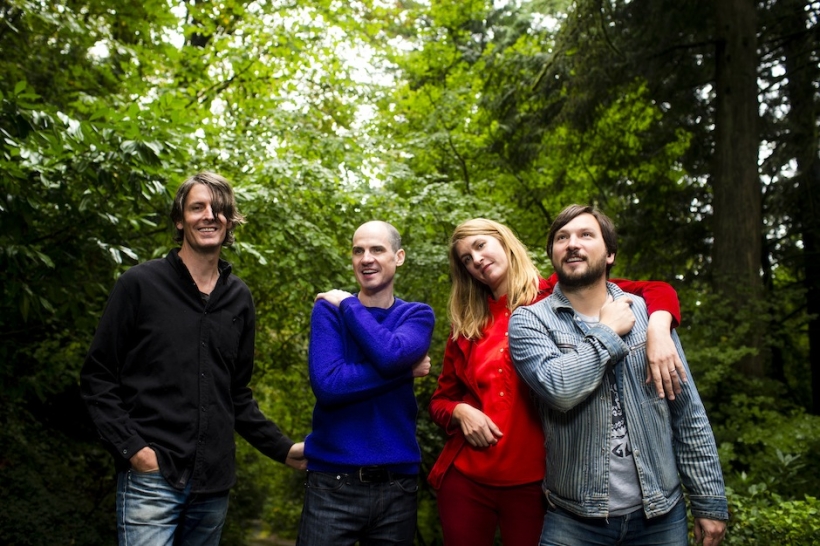 Il y a un moment sur le nouvel album de Stephen Malkmus & The Jicks, quand on arrive au 5eme titre, où j'ai l'impression que le groupe s'emballe et semble s'amuser en imitant une composition de Frank Black. Ca commence même par une épaisse ligne de basse légèrement déformée par je ne sais quel effet, puis ça enchaine avec un petit riff de guitare, Stephen va même jusqu'à chanter comme le gros Francis. Passer le clin d'œil, le titre s'emballe dans un geste je m'en foutiste. On est venu là pour écouter Malkmus jouer des phrases de guitare complètement déglinguées, la fin de Shibboleth tient toutes ses promesses, elle contient juste ce qu'il me faut comme électricité pour ce début d'année.
( ♫) Stephen Malkmus & The Jicks – Shibboleth
Audio clip: Adobe Flash Player (version 9 or above) is required to play this audio clip. Download the latest version here. You also need to have JavaScript enabled in your browser.
J'aime bien ce nouvel album, il y a des titres coolos comme Houston Hades. On a envie de tous les écouter tranquillement le matin, quand les premiers rayons de soleil passent à travers la fenêtre. Les breaks de batterie sont décontractés, la basse rebondie souplement, la guitare est là juste quand il faut, discrète, il y a de l'orgue électrique et des trompettes. Stephen Malkmus est plutôt classe au chant. Quand le titre démarre proprement sa conclusion dans un chorus que l'on ne peut s'empêcher de chantonner je me dis qu'il n'y a pas plus belle mélodie à écouter en ce moment.
( ♫) Stephen Malkmus & The Jicks – Houston Hades
Audio clip: Adobe Flash Player (version 9 or above) is required to play this audio clip. Download the latest version here. You also need to have JavaScript enabled in your browser.
Il y en a plein des titres comme ça, oscillant entre le songwriting qui vieilli bien et la référence ironique. Et si ça me donne aussi envie de ressortir « Crooked Rain, Crooked Rain », ces nouveaux titres de Malkmus – avec ceux de « Mirror Traffic » – sont de loin les meilleurs que j'ai entendus de lui depuis son premier album solo. Sur l'immense Rumble at the Rainbo, Malkmus se moque des reformations punks. Je n'ai pas fait très attention aux paroles, je me demande s'il a glissé une blague sur la reformation de Pavement … …
( ♫) Stephen Malkmus & The Jicks – Rumble at the Rainbo
Audio clip: Adobe Flash Player (version 9 or above) is required to play this audio clip. Download the latest version here. You also need to have JavaScript enabled in your browser.
Mathieu