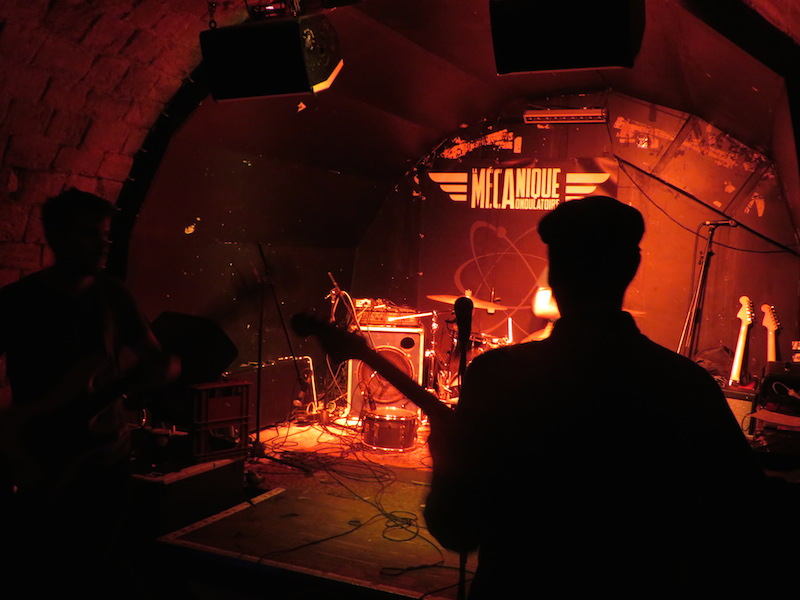 Vendredi 1er Juillet, buy modafinil from india Fred Paquet – le disquaire dont je suis devenu un fidèle client par la force des choses – a fait venir Buga The Membranes à la Mécanique Ondulatoire. Arrivé sur les lieux, je descends quelques escaliers pour rejoindre la salle de concert. Le guitariste et le bassiste d'Ours Blond finissent leur balance au milieu du public et le batteur est seul au fond de la scène. Ce dernier cogne tellement fort que je ressens instantanément une sorte de concassage méthodique de mes tympans, mais qu'importe la douleur, le niveau sonore est bon et rien de ne vaut un concert de punk déglingué où le bruit est le plus précieux des sons. Le bassiste distribue quelques mandales dans la figure en s'excitant sur son instrument avec la ferveur d'un mitrailleur en première ligne, ça sonne exactement comme un mur de distorsions graves, celui qu'on adore tant entendre chez Lemmy et Lou Barlow et c'est exactement ça qu'il me fallait ce soir. Ah et il manque aussi deux mécaniques au guitariste qui a bien fait de ne pas trop s'accorder. Vu mon état de fatigue c'est juste parfait et d'ailleurs je me sépare de quelques euros au stand merch pour un t-shirt.
( ♫) Ours Blond (Live)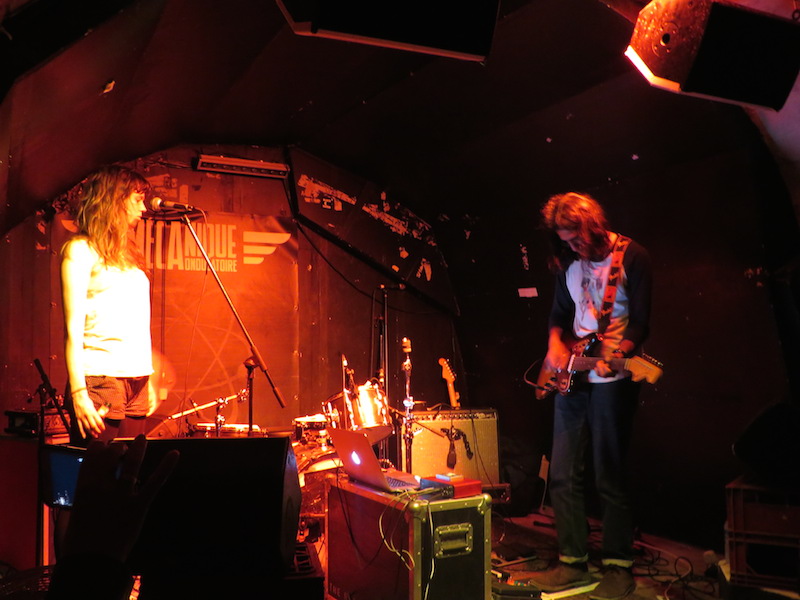 Après avoir repris un peu d'air frais et quelques gouttes de pluie au passage, je lorgne d'un œil plein d'envie sur le rack de pédales d'effet de Deutsche Ashram. Merinde Verbeek chante d'une voix saisissante, flottant légèrement dans l'atmosphère, nageant au dessus de ces nappes de guitare – une belle Fender Jaguar –  hypnotique qui semblent provenir d'un cratère en fusion. Ajay Saggar a un petit air de J Mascis et il a une façon bien à lui de jouer sur la dissonance de son instrument avec une pédale wha-wha. Ca consiste à tendre lentement vers un terrible larsen aigu alors qu'une ribambelle de phrases mélodiques sont passées au spectre d'une fuzz bien sale. Ceux qui n'apprécieront pas ce psychédélisme peuvent retourner à leurs disques ennuyeux, les autres rentreront chez eux avec la vive intention de faire résonner leur guitare dans un immense bourdonnement qui mériterait d'envahir toutes les caves de cette année 2016.
( ♫) Deutsche Ashram (live)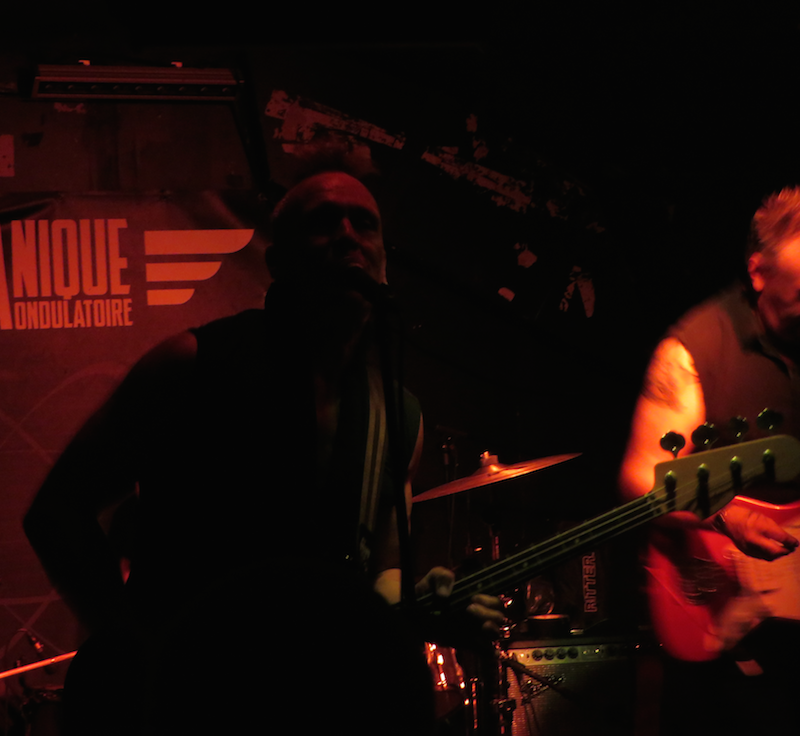 Il suffit d'un titre des Membranes pour mettre tout le monde d'accord. Nous sommes instantanément catapultés dans un monde merveilleux où il n'y aurait que des bassistes aussi bons que Jean-Jacques Burnel, Peter Hook et Jah Wobble, que John Robb n'a d'ailleurs aucun mal à égaler. La salle s'est remplie, il fait chaud, et le public se lance dans une intense gesticulation qui ira du hochement de tête endiablé, si vous restez comme moi accoudé contre les briques de la salle à essayer en vain de prendre une bonne photo alors que le mur menace de s'écrouler sous les assauts répétés de la basse de John Robb , à la danse ensorcelée en poussant de nombreux hurlements de plaisir si vous êtes au premier rang. Bref, le concert valait largement son pesant d'or, ne serait-ce que pour ces versions enragées de Do The Supernova et Dark Energy et l'ambiance psychobilly-dub-post-punk de In The Graveyard.
( ♫) The Membranes – Do The Supernova & Dark Energy (live)

Texte, enregistrements et mauvaises photos par Mathieu Gandin