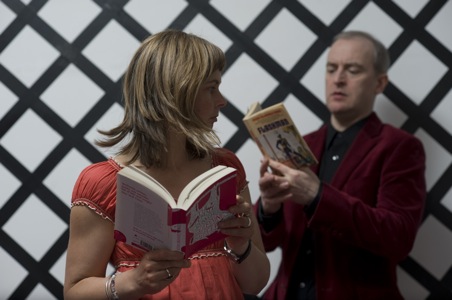 C'est étrange, je ne m'attendais pas à ce que les Vaselines reviennent. Une poignée d'EP essentiels, un seul album, et puis plus rien, en attendant que l'inspiration soit là de nouveau, on ne va pas imposer des trucs moyens à moitié finis. Kurt Cobain, en les reprenant – on se souvient encore avec émotion de sa réinterprétation de Jesus Wants Me For A Sunbeam – avait bien compris l'esprit punk qui animait le duo formé par Eugene Kelly et Frances McKee.
Alors que fait-on quand on choisit finalement de revenir après presque vingt ans d'absence ? On retrouve intact son sens du cynisme irrévérentieux, on chante en duo, un coup on se répond l'un de l'autre, un coup je chante, un coup tu fais les chœurs, et surtout on continue de composer avec ferveur des chansons sur trois accords comme si s'était la première fois qu'on les écrivait et que l'auditeur les entendait. Une certaine éthique du punk, que l'on s'applique aussi à soi même, comme pour dire qu'on en restera là après, et qui se résume assez bien avec l'excellente conclusion de « Sex With An X », Exit The Vaselines.
Et puis on demande de l'aide auprès de musiciens de Belle And Sebastian, entre écossais on se retrouve pour arranger ces morceaux de twee-pop et de rock poisseux, et dont chaque titre est un appel à la désinvolture : My God's Bigger than your god, Sex With An X, Ruined, et surtout I Hate The 80's. Sûrement le texte le plus drôle que l'on peut entendre sur cette période : « What do you know ? You Weren't there. It wasn't all Duran Duran. You Want The Truth ? Well, This is it. I Hate the 80's 'cause the 80's were shit ». Le genre de texte qui nous venge du premier hipster venu à nous vanter les joies des années 80 alors qu'il n'avait que 2 ans en 1986 et que ça fait "branché" d'aimer Licence IV.
Douze titres et puis c'est fini, jusqu'à une prochaine fois peut être, mais les Vaselines semblent avoir composé leur disque comme si c'était le dernier. Une raison supplémentaire pour aller les voir en concert au cas où, par chance, il passerait un jour du côté de chez nous …
( ♫ ) The Vaselines – I Hate The 80's

Par Mathieu